On the morning of December 9th, just like every other morning, I logged into my Facebook ads dashboard to monitor my clients' performance. Instead of seeing the usual numbers —  people reached, sales, cost per sale. I was met by the dreaded red sign: 
Your account has been restricted from advertising.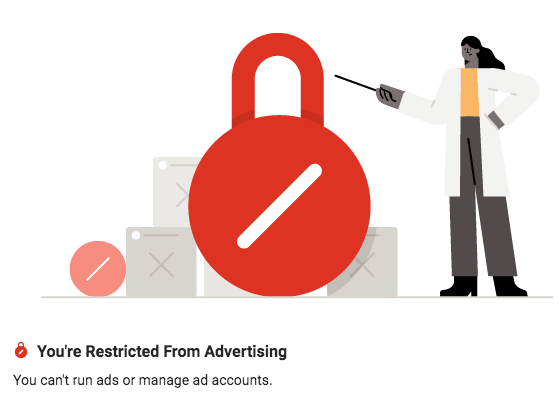 Their design choice angers me almost as much as the ban. 
Facebook's cold authoritarian hand has firmly grabbed my neck. With my personal account restricted I can't run ads for my clients nor my business. It also means any new account I create from my IP address will be immediately identified and disabled by Facebook´s state of the art tracking system. 
I am like a soccer player with a leg injury, not caused by an aggressive adversary, but by my own club! 
I've filed an appeal and contacted support numerous times only to hear the same story. They are "verifying", it's taking "longer than usual because of COVID"  and all the assorti of canned responses you give someone who is bugging you — not to a client. 
Until I saw this beauty in the support inbox. 

We've got an early Christmas present for you dear advertiser! 
They did not offer any explanation as to why they restricted me. It was not offered I suspect, because there is none. All of my clients follow Facebook policy and all have legitimate and highly-rated businesses.  
Now, before I continue, I want to say I am very grateful for Facebook. It has let me have a career suited to my needs, work from anywhere, and help brilliant clients grow their businesses. 
Thanks Mark. 
Despite their shortcomings, I still believe Facebook is a force of good (If you use it well of course).  
But as an advertiser, I've discovered the company's hidden underbelly and it is not pretty. It's hypocritical and unfair to their advertisers – the lifeblood of their business. 
I´ve advertised on Facebook for 7 years. These years have made me frustrated, angry, and hopeless. But they have also filled me with joy. There are a few things as amazing for an advertiser as opening your ads dashboard and seeing new sales. That there are people you´ve never met from all over the world buying something you – or your client – worked so hard to build.  
I´ve been able to witness the power of the world's most effective advertising platform — one so precise it's become a quip to say that they listen to our conversations. Selling on Facebook is a testament to free-markets and the internet as a source of never before seen prosperity and freedom.  
I've not only purchased upwards of 4M dollars on Facebook ad inventory but I've been an evangelist of the platform. I've sold and promoted my own course. And nudged non-believers to invest in the platform. "It will grow your business like nothing else will". I used to tell them. 
I've also experienced the power of Facebook to shape politics. Facebook Ads helped the city of Santo Domingo — the biggest in the Caribbean — to elect an honest but unknown senator as their mayor after only 33 days of advertising. I ran the ads and heard from his own lips that it was Facebook that gave him the edge in those tight elections. 
His tenure has been one of the highest-rated in Latin America and a refreshing contrast to the previous office, marked by incompetence and corruption. 2.5 million santodominganos are grateful for that. 
But Facebook doesn't care for their small advertisers. 
If any other business treated their customers with such insolence there would be a public outcry, but Facebook is unscathed. Despite thousands of advertisers who have been affected by account bans they haven't provided any assistance. I've never seen such an extreme discrepancy between the value we bring them and what we receive in return. 
Oh but they are so eager to promote their advertising services to small businesses. They hand out credits to first time advertisers, and run a barrage of ads to entice advertisers to take advantage of them. Mark Zuckerberg recently said that small businesses are a "major focus" and that they are "more important now than ever".  
But as soon as you are on board they no longer care. They are like an abusive partner on a first date…so sharp, so charming. But a nightmare later on. 
I understand. Facebook must protect their users from scammers and low-quality advertisers. But this shouldn't interfere with the work of legitimate advertisers. 
While advertisers are cut off from the platform without an explanation, Facebook guards their public image by giving out 100 million dollars in ad credit grants for small businesses. Their company profile page is littered with grandiose platitudes such as "Our tools level the playing field so businesses grow, create jobs and strengthen the economy".
Yet for all the nice words their actions speak differently. 
Facebook. Take a look at what's happening in your own backyard. You don't care about the people who depend on you for their livelihood. We are putting money in your pockets. We give you the cushy offices in Menlo Park, with the pinball, the catered meals, and six-figure salaries that pay for the top developers, engineers, designers, and diversity officers in the world. 
I am sure a company capped at $720 billion can equip their support team with the tools to identify what kinds of businesses running ads on their platform are legitimate and which ones are not. 
But they don't care. Of course. The biggest advertisers are fine. They circumvent protocol and get a dedicated Facebook rep who can solve their issues in a heartbeat. 
While they can't provide a sensible response to their small advertiser's requests. Instead, they shove us a support team that seems designed on purpose to irritate us. I don't expect Facebook to be perfect. But there is a mínimum service that clients deserve. 
This issue has even reached the mainstream media but Facebook still hasn't provided us with a semblance of a solution. 
And if you don´t. You will not be the first, nor last company to realize you are not too big to fail. 
In case you do, my support ticket number is #723044581973311 . 
Resources to get your personal Facebook account restored
Further reading
This advertiser spent

$

46 million

 

on Facebook only to get his account banned 

Facebook's AI Mistakenly Bans Ads for Struggling Businesses – 

Bloomberg