1. Hike Volcán Barú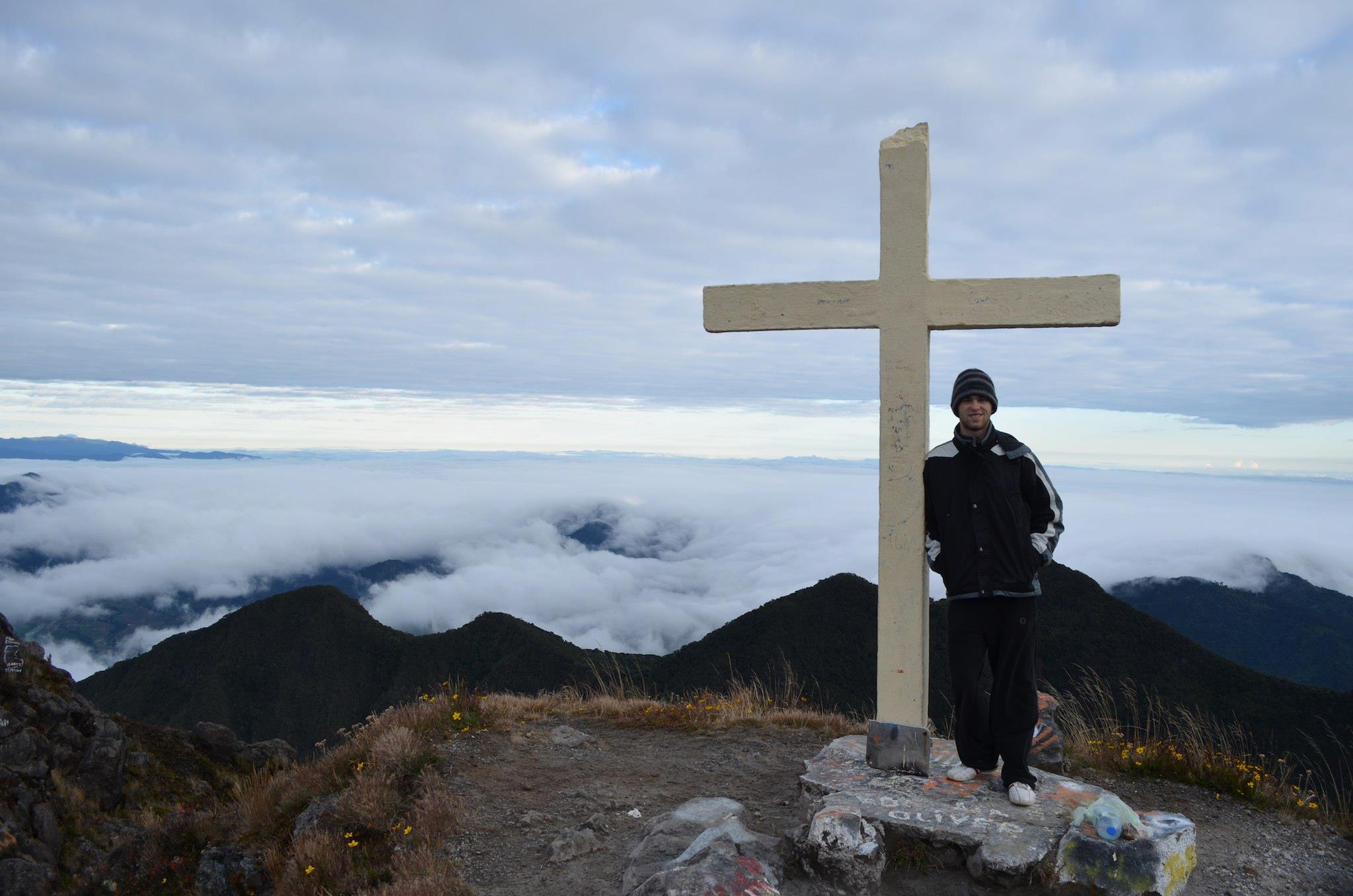 My first ascent in 2010.
Volcán Barú is the best hike in Panama. It's the tallest mountain in the country and a true adventure — if you do it the right way. 
Here's how.
You can reach the top of Volcan Barú through two routes. The Volcán route, which starts at the town of Volcán. And the Boquete route, which starts at the town of Boquete. I recommend the Volcán route. It has better views and it's more adventurous. The Boquete route is just one long, winding, tortuous road to the top. It's boring and repetitive (like this sentence).
I´ve hiked Volcán Barú 4 times and this is how I´ve done it:

You absolutely need a guide if you are going the Volcán route, the Chiriquí wilderness is no joke, you do not want to get lost here. Spend the night in Volcán, start your ascent at 5-6 am, spend the night in the summit, enjoy the sunrise by the cross, and then descend through Boquete. The Boquete route is great for descending, especially if you are not an experienced climber. 
Bring a good tent (I once brought a $13USD Novey tent and I almost got hypothermia). Don´t let the Panamanian sea-level heat fool you. Temperatures drop below 0 °C (32°F) at the top of the Volcan Baru. So bring winter clothes.
The hike is not technically challenging and can be completed by anyone (unless you are really out of shape). I Once hiked Volcán Barú with a friend who smoked a pack of Marlboro Red a day (among other things) and he had no trouble, while a guy from Texas, who hit the gym daily, was almost in tears.

It's mostly psychological. Just mentalize yourself that you will not let the mountain defeat you, no matter what. Also, if you have an early start, you should have 10+ hours of daylight, enough to reach the summit. So take your time. You don't have to break any records. You just have to get to the summit before dark.
Unfortunately, I lost contact with my guide. He is a sculptor and has a son named Quetzal. We used to call him Tarzan. I think he lives in Boquete. If you know someone from Boquete ask for him. He is an excellent guide. 
More info on the hike here and here. 
📍Google Maps: Volcán Barú. 
2. Camping at Laguna San Carlos + hiking the Cerro Picacho
You've probably heard of killing two birds with one shot.
Well, here you can kill 3. (Please don't kill birds in San Carlos or anywhere else, unless your life is in danger).
This is one of my favorite trips in Panama. Because you have a 3 in one: lake, mountain, and camping.
You have the Cerro Picacho, which offers one of the best effort to reward views in the country. A refreshing lake below, a tent right next to the lake. And the love of your life waiting for you inside the tent …Well. I cannot guarantee that. But I stand by the rest.
The last time I was here, the only negative was a group who started blasting reggaeton at 2 am. The good thing is that they packed up and left at 10 am. Weird, no?
I recommend arriving early to pitch your tent in one of the good areas. Cerro Picacho is an easy hike. It takes approximately 2-3 hours to go up and down. Make sure to start your hike before 2 pm so that the night doesn't surprise you.
The entrance to the Cerro Picacho trail is right next to the lake.
More info on the hike here.
3. The Rainforest Discovery Center
I´ve spent 27 years in Panama without knowing this place. Either their marketing is not very good or I didn't pay attention to these kinds of places? Probably both.
The Rainforest Discovery Center in Gamboa is for those who want to discover the Panamanian rainforest without the hassle of actually venturing into the real rainforest.
The Rainforest Discovery Center is like Jurassic Park, but instead of the T-Rex, you´ll meet hummingbirds — did you know they are half insect half bird? You will also see monkeys, snakes, ñeques, a 32-meter / 104-foot observation tower, and a lake with crocodiles.
By the way, The chances of you seeing hummingbirds are 99.9% since they have a hummingbird enclosure where you can sit inches from them. Perfect for your Instagram or just enjoying the moment.
It´s $12 for locals and $30 for foreigners. Don't ask me why there's such a big difference. I don't get it either.
And for better or worse, this place is so close to the city that in half an hour, you can be at the Albrook Gourmet Deli sipping an espresso.
P.S: What will welcome you as soon as you arrive here will make you feel like you are in the real jungle, believe me.
4. Visit the coffee shops in Panama City
I remember when there were no coffee shops in Panama City. You would have coffee at Del Prado, Pita Pan, Manolo's, the Pomodoro terrace, Figali, the Marriott, Sheraton, or even at Riba Smith. The coffee was cheap, you could smoke indoors, and the conversations revolved around what was on TV later in the evening and Mireya's duro dolares – one of Panama's many political scandals.
Times have changed. The scandals are still there, but now you pay $ 3.50 for a coffee and stay in the coffee shop all day. Ever since New York Bagel's Café opened in 2005, laptops and hipsters have brought the coffee shop culture to Panama City.
My favorite coffee shops are Mentiritas Blancas, Unido (all), Athanasiou (Costa Del Este, Obarrio) and Casa Sucre. Honorable mention to New York Bagel's Cafe, the pioneer of coffee shop culture in Panama.
P.S. Order a Geisha coffee, the most expensive in the world, and let me know if it's worth it.
5. Hike Cerro Campana
Cerro Campana is an easy hike. It has an excellent view of the Pacific beaches, and you realize that Panama has places where you need a sweater. Which will get you on a slippery slope to find more places to escape the city's eternal heat.
If you are a beginner to this hiking thing. Cerro Campana is a great place to find out if you love it or hate it. If you hate it, you won't be having much of it because Cerro Campana is only a 45-minute hike. If you love it, great. There are many hiking options in Panama.
Cerro Campana (also called Cerro La Cruz) is a hike anyone can enjoy. From enthusiasts to those who have not exercised since PE classes in middle school.
A suggested itinerary:
9:00am: Stop at Quesos Chela.
9:30am: Start your ascent to the Campana Mirador.
10:30 am: Reach the summit.
11:30 am: You are on your way to El Palmar or any of the other nearby beaches.
6. The spot in Costa Del Este
I hope this place doesn't get too crowded because of this blog. Although… Who am I kidding? Not so many people read it.
I recently discovered the Costa del Este´s spot while working out on the Roberto Motta promenade. It has one of the best views of Paitilla and Punta Pacifica, and there are a couple of benches where you can sit and watch the sunset. Great place for a date or a photoshoot.
Sometimes there are lots of mosquitoes so I don't recommend it after the rain. You can find the spot just after the Paseo Roberto Motta bridge.
7. Wall climbing at Baboon´s Boulder Wall
Baboon's is the only climbing wall in Panama City. It is a small wall crammed behind the Hostel Posada 1914 but it packs a punch. It has good routes for beginners and pros.
You can rent climbing shoes there. Book your appointment on their Instagram. Elena – the manager – will give you all the details.
P.S. Order a beer at the hostel reception, they are very cold and at a good price.
8. Eat a hojaldre at Trapiche
The Panamanian hojaldre is a flour-based pastry, eaten at all hours, semi-vegan and it is the best of Panamanian cuisine.
Here you can find one of the best hojaldres in Panama City, nothing more to say. Extra points if you buy the hojaldre in the Trapiche and go for coffee at Unido next door. Additional extra points if you accompany it with a chorizo santeño.
P.S. Now they have opened several Trapiches in the city, but the one in Vía Argentina is still the best.
9. La Yeguada
This camping spot has become a classic. It has become so mainstream that I have not seen a list of things to do in Panama that does not include it. But it´s there for a reason. It's great.
It's like being in Montana, but without the danger of being attacked by a giant Montana bear. You will be in your camping tent surrounded by mountains, pine trees, a beautiful lake, and cool weather. Then, you will listen to the roar of a reggaeton at 7 am and you will be back to normal.
Anyways, despite that little inevitable flaw, la Yeguada is majestic. Here you can rest, completely disconnected from the burdens of the modern world. No matter how hard someone tries to reach you, they won't be able to – there's no internet signal here.
It is not allowed to swim in the lake, but you can go to a nearby waterfall. It's about a 45-minute walk.
When we went to La Yeguada we arrived in Santiago de Veraguas on a Friday night, stayed one night at the Hotel Mykonos. Then spent the night from Saturday to Sunday at La Yeguada. Although I recommend spending 2 nights here, so you fully disconnect.
P.S. There is a mountain nearby called La Silampa. I didn't go, but I heard it's a good hike.
10. Drink a manga larga at La Radio
I don't know if this place still exists, the last time I went was in 2017. 
But I hope it still exists for the good of the city. La Radio is the antithesis to the neat Coffee Shops and hip spots that pretend to be rustic but are actually super polished. This place honestly doesn't give a fuck. It's a real canteen.
From the moment you walk through its rocking doors, until you order a long-sleeved Balboa for about $ 1.50. You will feel you are in another time, and far away from downtown Panama City. Even peeing is an adventure – just the way it should be. Oh, and there is a jukebox… which works.
All this time travelling can be done a few steps from the Atlapa Convention Center. Visit it while it exists, I have a feeling it will not be for long.
P.S. La Cantina in Casco Viejo has the same flow.
11. El Panal waterfall

When your guide says he discovered the place you are going to, you know it's going to be a good trip.
You can visit 3 waterfalls on this trip.The first and third are spectacular, the second not so much, so you can skip it. You have to walk about two hours to visit all the waterfalls.
The hike is a bit challenging since its pure (slippery) rock. The guides bring ropes for some of the most hardcore routes. There are a couple of places where you have to put your body into very rigorous positions to climb the rocks. In my group of almost 15 people no one had an accident, but there was a girl who couldn't reach the third waterfall.
If you want to have a waterfall just for yourselves, this trip is perfect. If you only want the waterfall and not the adventure to reach it, I do not recommend it.
You do need a guide for this one. We went with Wild Panama who is a partner of the local who discovered the waterfalls.
12. The Museum of the Interoceanic Canal
I am not a fan of museums. But this museum is great.
If you are interested in learning the history of how the impenetrable Panamanian jungle became the most important commercial route in the world and the political intrigue that a project of this magnitude brings, this is the place.
Why did the French fail and the Americans triumph? What was life like in the Canal Zone? What was the fate of the thousands of foreign workers who came to build the canal? Who were the key figures that made its construction possible?
All these questions are answered by the Museum of the Interoceanic Canal. Modern Panama is largely a product of the canal, and learning its history will help you understand what makes Panama, Panama.
13. Watch Panama play at the Rommel Fernández
I remember the match when the USA stole Panama's hopes of going to the 2014 World Cup. I was in the stands. A guy next to me passed out. People were crying. This is the passion with which Panamanians live the most popular sport in the world. 
I am not a soccer fan. But there is something very special about going to see a match for the World Cup qualifying rounds at the Rommel Fernández stadium.
I had the opportunity to see many matches before the 2014 World Cup, and I can recommend the experience to everyone who visits Panama.
The tradition of throwing beers and even coolers into the air, the saltadera, and the murga. And despite all this madness, it's very peaceful. Panamanians know how to celebrate soccer win or lose, and this is one of the beautiful things about this stadium.
It's a true soccer festival. And one of the few places where everyone leaves their differences at the door and just lives the game. One of the keys of photography is to capture the essence of the moment. Same with soccer, since each moment can be the decisive one. And there is no better place to live that moment than at the Rommel Fernández.
P.S. Don't have any illusion that Panama will win. It's very unusual.
P.S.S. Take an Uber. Parking at the Rommer Fernandez is an endeavor that should only be attempted by maniacs.

14. Stay at the Golden Frog Inn at El Valle
If waking up to the above view is not enough for an adventurous soul like yours, you can use this small hotel as the starting point to explore the rest of El Valle De Anton.
Hike La India Dormida, or Cerro La Silla, chill at the hot springs ;), see the unique yellow frog at the zoo, have a whiskey with a Republican expat, bargain at the central market, and have lunch in a delicious fonda.
And finally take refuge in the small library of the Golden Frog Inn with your preferred drink.
El Valle perfectly combines tranquility with adventure. By the way. That jacket you bought and never had an excuse to wear. Bring it. In El Valle you will need it.
P.S They told me that one of the suites was the room of the former president of Panama Eric Del Valle.
15. Run a lap around Parque Omar
The number of laps you can run around Parque Omar is a commonly used metric by capitalinos to measure their cardiovascular condition. If you are under one lap, you're lacking. If you can run two, you are in the upper echelons of fitness in Panama City.  
Now. You don't necessarily have to run. You can also take a leisurely walk around the park on a lazy Sunday afternoon, distract yourself with nature, and even stop for raspao.  
The park borders with the low-income neighborhood of Carrasquilla, but also the luxury mansions and condos of Altos del Golf, preferred by the Panamanian old money. You will be able to witness the city's social class contrasts while you move up and down the park's hills. Poetic.  
If Karl Marx was in Panama City, he would surely visit Parque Omar. But he would complain a lot. Of the heat he has to endure with his enormous beard, of the mansions, and definitely about the uniformed maids destined to walk the dogs, and children, of the rich for the rest of their lives.

Today, Parque Omar is the Central Park of Panama City. It used to be a golf course, the millionaires of the area could play golf in front of their houses. But in the 70s populist President Omar Torrijos bought this privilege from them for $2.1 million and made the park public. 
P.S. If you're good at scavenger hunts, you might find a few golf holes in the park.
16. Watch a movie in a VIP cinema
Lately, I spend more time in Europe than in Panama. And I still haven't seen VIP movie theaters there. Europeans may have more advanced cultural offerings, but you can't recline 180 degrees and order chicken fingers while watching Transformers.
Make the best of your time in Panama. Watch a movie at the VIP theater and order chicken fingers. You deserve a decadent outing.
Soho Mall's VIP movie theater is the best, but I'm not sure if they'll lend you bedsheets. Take yours. But beware, they can be filled with BBQ sauce.
P.S. To continue paying tribute to the decadence, grab a few beers after the movie at La Rana or Panama Brews.
17. Watch a show (or act) at the Ancon Guild Theatre
I had the honor of having a leading role in a play at this theater. It was a fantastic experience and I understood how epic this theater is.
Founded by Panamanian and American talent in 1950. It is the longest-running theater in Panama and the only one where all plays are played (or presented?) in English.
They've shown hits such as Reservoir Dogs, Deep Fried Comedy (created by them), Rocky Horror Show, and many others.
When you stand outside the Ancon Guild Theater, you might think you are in the wrong place, but don't worry,  that wooden house in front of you is the theater.
If you want to try acting, contact them. They are an amateur theater and always looking for new talent. Visit their website or send them an email to [email protected]
P.S Other theaters in Panama: The National Theater (the most beautiful), ABA, La Estación, Balboa, in Círculo.
18. Drive around the city of Colón
Colón is on everyone's lips. Politicians suggest all kinds of solutions to the beleaguered city. The media is always reporting about something unpleasant going on here. But most of the people who participate in the Colón rhetoric have never set foot (or a tire) in this Caribbean city.
Panama's forsaken city.  Locals fear it and respect it, but they don't feel like visiting it.
I am inviting you to visit it.
Driving around its streets is the first step to understanding the reality of this city. And the reality, as usual, is not very pleasant. Colón has been deteriorating for many years.  Crime. Poverty. Unemployment. The usual stuff. Colón was used in the James Bond film, Quantum of Solace (2008) to portray  Haiti, the poorest country in the Americas.
Its majestic buildings (now crumbling) give you a glimpse into the city's glorious past – when it was a wealthy outpost for transatlantic trade. Another reason to visit Colón.
Paradoxically here you can find the Colon Free Zone, one of the locomotives of the Panamanian economy.
Colón is dangerous and you must take precautions. Don't walk around the city unless you are escorted by locals. If you want to grab a bite I recommend one of the restaurants in the Millenial Plaza.
Colón is also the perfect starting point to explore some of the beaches and islands of the province of Colón (known as Costa Arriba).
19. Isla Mamey
We return to the province of Colón. Isla Mamey is a tiny island 15 minutes from the coast. It is a quick way to enjoy the Panamanian Caribbean if you don't want to go all the way to San Blas or Bocas.
There's no hotel or camping site. You can only stay during the day. They sell food and drinks; rent chairs and gazebos. The water is nice and transparent as it should be in the Caribbean. But it does not compare to San Blas.
You take the boat in one of the ports close to the town of Portobelo (which is also worth visiting for its ruins and Caribbean vibes).
There you will meet multiple pangueros eager to take you to the island.
The price is between $ 6 to $ 8 per person and approximately $ 5 to park. You have to pay a few dollars to enter the island. When you return to the mainland, a group of children may unload your bags from the boat and ask you for a few more dollars. Hey, the world revolves around the dollar, after all, even the kids know it.
Keep in mind, the coast of Colón is not very equipped for tourists. There are no gas stations so I recommend that you leave Panama City with a full tank. There are also no ATMs.
P.S. There is another island that you can reach from the same ports. It's called Playa Blanca. Never been there, but  I've heard it's worthwhile.
20. Visit the terrace of Capital Bistró

American real estate agents have a mantra: location, location, location. Capital Bistró simply has the best location in Panama City.
The terrace offers a majestic view of the city and is right at the entrance to the old town.
The food is good, but this is a restaurant that you go for the view. I recommend reserving a table at the terrace. If the terrace is booked, don't go.
Perfect for a date, but not the first. It's too much.